Roll over image to zoom in


Description
Our aquarium filter replacement cartridges come pre-assembled, filled, ready to be used and will out perform the OEM cartridges provided with the filters!

Support American made products. All materials sourced and manufactured right here in the USA.
These replacement cartridges are constructed with polyester on both sides and contain extra amounts of professional grade carbon. Our carbon has been air-vacuumed, which results in a lighter more absorbent filter cartridge. 
High Quality Cartridges
Fits Filter Models
Tetra Whisper 20, 30, 40, 60
Tetra Whisper 20i, 40i
Tetra Whisper C
Features
Made in the USA using high quality materials.
Pre-assembled and filled with high grade carbon for quick and easy cartridge replacement.
Thick polyester padding for superior performance.
In stock and ready to ship right to your door.
Customer Reviews
11/21/2023
montana g.

United States
Perfect fit
They fit amazing it's very hard to find these in Particular and easy to take out to clean tank.
11/17/2022
Roger

United States
They Need A Little More "Backbone"
We're wintering over 7 good sized goldfish from an outdoor fountain tub in a 20 gallon tank using an Emperor 400 type E cartridge filter system rated for an 80 gallon tank. The Marineland filters are a little pricey so I thought I'd try a dozen of these and see how they work out. The price was good, the purchase was easy, the delivery prompt and they appear to be doing the job. My disappointment is that the 'cartridges' have a little too much flex in them so I needed to use the Emperor charcoal containers as a back up to hold them in place. I'll likely purchase them again but I was asked for a review so .....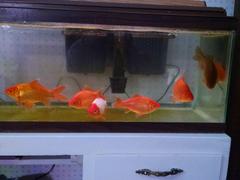 06/09/2021
Brenda S.

United States
Good quality filter
I had bought a cheaper filter from a online pet store which fell apart in the 50 gallon tank and we are still trying to get the pieces out. These filters are good quality and they are cleaning up the mess. I would definitely buy these over and over.
04/04/2021
Amy E.

United States
Good availability of hard to find parts find
Great! I have an older tank with weirdly shaped filters,v and no other place has then in stock anymore... But you had them! Thanks!
01/07/2021
Teresa H.

United States
Just What I Needed!
I was frustrated having to 'build-my-own' filter cartridge each time and decided to try these. they fit perfectly, saving me time and headache! They arrived quickly and I will certainly order them again.