Roll over image to zoom in
Description
Freshly dried and packed it comes straight to your door. One of our most popular foods and for good reason as our freeze dried krill's (Euphausia superba) unique nutritional qualities make it a perfect food for many fish.
An excellent source of natural astaxanthin it will bring out the natural colors of your fish. And it's high protein, lipid and mineral content promote good health and conditioning. Harvested from the clean cool waters of Antartica and dried here in the USA, you will not find a higher quality krill.

All types of fish enjoy krill, from freshwater to saltwater-- cichlids to koi. This Antartic Ocean relative of the shrimp is a crustacean, which is part of many fishes natural diet. It can be taken whole by larger fish or crushed by hand for smaller fish.
Key Benefits
all natural fish food
very fresh
Nutritional Info
Ingredients
Krill (

Euphausia superba)
Guaranteed Analysis
60% Protein 10% Fat 19% Fiber 6% Moisture
Customer Reviews
08/23/2020
Giovanni A.
United States
07/27/2020
Dave M.
United States
Krill
It is good I can use it to feed my fish. I actually bought it in place of the Red Shrimp that I purchased before, I could not find it this time I guess you dropped it from your inventory. The red shrimp was a bit big for my fish but my Red Footed Tortoise loved it he does not like the Krill much so I need to feed it to my fish Krill is really for larger fish and I only have a few.I did find the red Shrimp on Chewy.com so I will get it there.
07/24/2020
Yvonne D.
United States
Fish love the Krill
My fish go crazy for the krill. And you know it's fresh when you husband walks in the room and says, "Fish for dinner?" It smells great to me too. But most importantly, the fish are happy. Even my old Plecostomus come out to eat immediately when I use it! I definitely recommend it and will buy again. Thanks!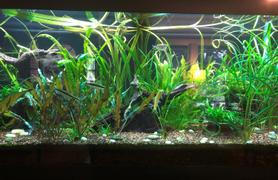 01/14/2020
Craig W.
United States
Best whole freeze dried krill
Big whole krill I feed to my larger Haps & peacocks every so often best bang for the buck!
Feeding Frenzy
My Koi go crazy for this freeze dried krill .They are growing and their colors are vibrant thanks to the high quality of this product .
Payment & Security
Your payment information is processed securely. We do not store credit card details nor have access to your credit card information.