Roll over image to zoom in
Description
Large cubed brine shrimp that can be broken into smaller sized chunks. Brine Shrimp pressed into a cubed shaped treat. Large fish can devour it whole, while small fish can pick it apart. 
When conditioning fish for breeding, high quality foods are a must. Brine shrimp is an excellent conditioning food, as well as a perfect treat for any fish, fresh or saltwater.
Key Benefits
all natural fish food
very fresh
Nutritional Info
Ingredients
Guaranteed Analysis
43% Protein 7% Fat 5% Fiber 5% Moisture
Customer Reviews
12/15/2020
herbert s.
United States
Freeze Dried Brine Shrimp
did not receive this yet... !
12/05/2020
Wayland L.
United States
Freeze dried brine shrimp
Not good! There's no container for the 5 lbs size. Only clear plastic bag was used. No indication of brand name, item description, etc. The 5 lbs size costs more than the 2 lb size when compared pound to pound.
06/14/2020
Tom S.
United States
Aquacarium Freeze Dried Brine shrimp
I have 9 tanks with Tropical American Cichlids in them. All the fish are fed a variety of your foods from pellets and sticks to tubifex, Brine and Krill, with the favorite being the freeze dried brine. I have several breeding pairs and many growing fry at this time. I even feed the fry a combo of krill and brine powder from the bottom of the bags. None gets unused and the fish love all the products. I love the price!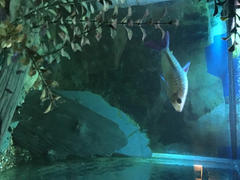 03/30/2020
marcus f.
United States
All my fish love it
There isn't a fish in any of my tanks that don't enjoy the freeze dried brine! Definitely worth buying.
02/24/2020
ramon j.
United States
Payment & Security
Your payment information is processed securely. We do not store credit card details nor have access to your credit card information.