Roll over image to zoom in
Description
A high quality fish flake food that is made with both Krill and Plankton. Most aquarium fish are planktonic feeders. Whether they are sifting through the sand for small shrimp or crustaceans or feeding from the water column, krill and plankton make up an important part of the food chain.
Key Benefits
Made in small batches of 100 pounds or less
Manufactured in the USA
Very fresh and large flakes
Nutritional Info
Ingredients
Salmon Fish Meal, Soy Flour, Freeze Dried Plankton, Freeze Dried Krill, Dried Spirulina Algae, Dried-Kelp, Brewers Yeast, Fish Oil, Lecithin, Garlic Powder

Vitamin Supplements: A, D-3, B1, B-12, Choline HCL, Biotin, Double Stabilized Vitamin "C", Methionine, No Preservatives, No Coloring
Guaranteed Analysis
45% Protein 6% Fat 4% Fiber 8% Moisture
Customer Reviews
05/27/2021
Roberto

United States
Great for Discus
I bought 2 discus fish that were eating only blood worms at the pet shop, they did not want other flakes so I tried these ones with additional Garlic from Seachem and now they love these flakes. Excellent product.
05/03/2021
Noel E.

United States
Best fish food . TOP QUALITY
Their service is second to none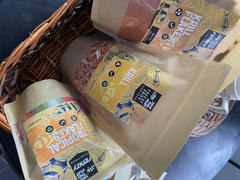 02/18/2021
Craig W.

United States
Fish and starfish like it.
Good quality flakes.
Payment & Security
Your payment information is processed securely. We do not store credit card details nor have access to your credit card information.